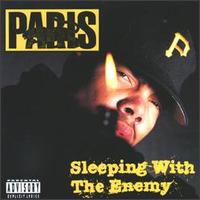 Paris, "Sleeping With The Enemy"
My favorite album (atleast until Sonic Jihad was released). The aggressive, militant, social conscious and dedicated lyrics can I definietly relate to. The album was released on Paris own label, Scarface Records, after Tommy Boy Records refused to release it because of the song "Bush Killa" (my favorite) that deal with a fictional murder of United States former President George Bush (father of the present President George W. Bush).
Calmer songs like "Days Of Old" and "Assata's Song" (Assata Shakur, political refuge on Cuba from the US, former Black Panther Party member) give balance to the aggressive and militant songs.
I could not live without the music on this record that have inspired incredibly much.
1993 Scarface Records. 10+ out of 10. Ben Kravtiz.